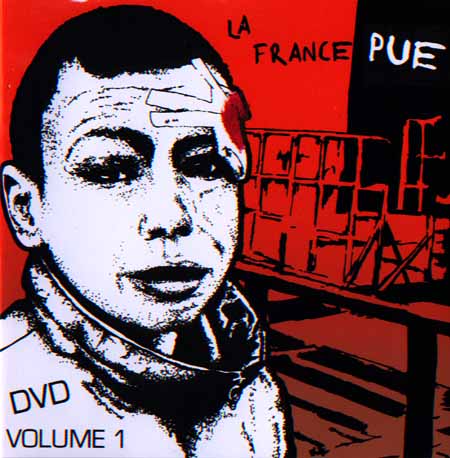 Our first diy Dvd is out now silk-screened cover + booklet + sticker
Notre premier dvd diy est sorti, pochette sérigraphiée, livret et autollant avec au sommaire
MAKILADORAS (NL), ANIMA (F), D.S.B. (Japan), FROM ASHES RISE (US), MUZZLE RIP (F), KOCHISE (F), VOMIT FOR BREAKFAST (F), M.D.C. (US), KYKLOOPIEN SUKUPUUTO (Finland), MUCKCRACKERS S.E. (F), HORRÖR (Spain), CRIPPLE BASTARDS (Italy), NO REST (Brazil), ED WOOD (F), J'M'EN FOUS (Switzerland), EKKAIA (Spain), STRAIGHT TO HELL (F), COLERA (Brazil), 14 INCHES GENERAL (Germany), BORN/DEAD (US), CHAOS ZZZ (F), NNY (Switzerland), REVENGERS (F), KLINIKA (Poland), DRUNKEN VENGEANCE BASTARD (F), BURNING HEADS (F), POUPOUILLE ORKESTRA (F), THE HOLY MOUNTAIN (US), LA FRACTION (F), DISKOIRAA (Basque Country), P.A.I.N. (UK), LEXOMYL (F), LOS DOLARES (Venezuela), FACE UP TO IT ! (F), MOLOTOV COCKTAIL (US), HORFIELD SC (F), C.T.B. (F), DURACELL (F), GOOFBALL (F), PARAGRAF 119 (Denmark), INNER TERRESTRIALS (UK), ENDROPHOBIA (Germany).
PRICE/PRIX : 5€
If you want to get it please send an email to silvain at : tranzo_at_free.fr
Si vous souhaitez en commandez un, envoyez un email à silvain : tranzo_at_free.fr
Vous pouvez aussi télécharger une version compressée… N'hésitez pas à la faire tourner si le coeur vous en dit !
If you want to download this dvd please click (or right click & save as…) on the link below
Si vous souhaitez télécharger le contenu de ce dvd cliquez (de préférence clic-droit>Enregistrer sous..) juste en dessous :
The image-quality of this file is poor so if you want better please buy it. Thanx !
This file is an .mp4 file if you have some problems for playing it, try with VLC media Player.
Attention ce fichier est compressé au format mp4, si vous avez des difficultés de lecture essayez avec VLC Media Player